RR ibifurije
Umwaka Mushya Muhire w'2003

Vol SN sur KGL
Alerte à la bombe
Plus de peur que de mal
Le vol du samedi de la SN Brussels (compagnie aérienne belge privée) à destination de Kigali a été détourné volontairement sur l'aéroport de Malte suite à une alerte à la bombe communiquée par téléphone. Il devait quitter cette escale imprévue vers 20h. le même jour pour se rendre à Kigali en passant par Rome. L'alerte avait été jugée suffisamment sérieuse pour interrompre momentanément le vol (Journal télévisé de la Radio Télévision Belge Francophone - RTBF, du samedi 11 janv.,19h30).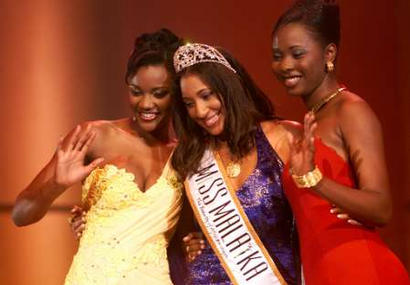 Graca Rocindra (L) from Angola, Morgan Chitty (C), from the United States, and Belinda Mokako of the Democratic Republic of the Congo (DRC) pose for photos after the Chitty won the Miss Malaika pageant, a worldwide beauty pageant for women of African Origin, in Harare December 14, 2002. The pageant's purpose is to promote Africa's beauty through its diverse cultures and values. REUTERS/Howard Burditt
This photograph entitled "Tutsi Woman, Rwanda," was taken between 1931 and 1937 by Casimir Zagourski. It is part of a photo exhibit called "In and Out of Focus" that opens Friday, Dec. 5, 2002, at the Smithsonian's National Gallery of African Art. It covers the continent from the 1800s to the dawn of independence in 1960. (AP Photo/Smithsonian, Casimir Zagourski, HO)
Le Rallye des 1000 collines a eu lieu du 23 au 24
novembre, il n'y a pas que la politique !
L'adieu sur scène de Rosalie Mukamutara
W. J. Clinton in R. R.
Former US Pres. Bill Clinton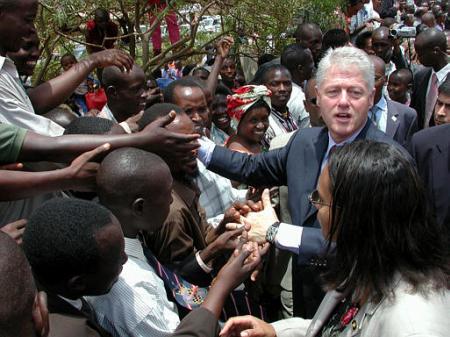 Former President Clinton shakes hands of residents at a health center in the capital, Kigali, Rwanda Wednesday, Sept. 25, 2002. Clinton, who is accompanied by Hollywood actors Kevin Spacey and Chris Tucker, unseen, is in Africa to promote efforts to fight AIDS and encourage economic development. (AP Photo/Rodrique Ngowi)
A Bruxelles, un jeune rwandais meurt
dans un mariage
L'insécurité au plus haut niveau?
L'épouse du chef du DMI
blessée par une grenade!