Amalitiro 4 / modoka 1 ?! Vyakomeye !?
Igihango kiti : Kagame nabe aretse amatora ye
"-Ibitoro vyatanguye gukena , abanywesha batonda imirongo bahabwa ilitiro zine gusa kuri buri muduga .
-Inama yahurije abagwanya ubutegetsi bwo mu Rwanda mu Bubirigi yasavye ko Kigali ihindura ikirangaminsi c'amatora ." (BBC-Gahuzamiryango, 14 Mutarama 2003 : RWANDA). Abo twandikirana ngo iraboneka, umuntu akuzuza rezerivuwari.


"(...) GDP per capita is 22% lower than 10 years ago (...)" - Min.
Kaberuka, Budget 2002, Nov. 26, 2001(minecofin.gov.rw).
"People used to starve in this country (...), but today there is sufficient
food around the country,(...)" - Pres. Kagame, Jul. 2, 2002
(rwanda1.com).
Approx 2 US$
François Kanimba (Photo BNR.rw)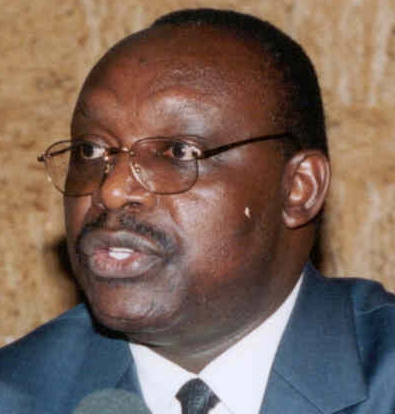 Le Gouverneur de la BNR
Le Munyarwanda "vit" avec 0.6 $/j
La situation exige beaucoup de travail et surtout de SACRIFICE pour parvenir à sortir la majorité des rwandais de la misère. Si notre économie continue de croître à raison de 6 % par an, on devrait arriver au dollar/euro par jour dans... 10 ans (?) parce que dans le même temps les maternités ne chômentpas et que le nombre de bouches à nourrir augmente d'un "robuste" 3% par an.
13.7 Bn for Demob, half that amount for elections
The budget, read in parliament on Nov. 27, targets 7 percent growth, revenue collection equaling 12.5 percent of its US$1.8 billion GDP ( US$225 million RR ) and a 9 percent deficit ( 20 million RR). The budget sets aside Rwandan francs 13.7 billion (US$27.4 million) to finance a program to demobilize soldiers and rebel fighters repatriated from Congo, Kaberuka said.
The small central African nation also will spend Rwandan francs 6.7 billion (US$13.4 million) on a referendum on a new constitution and presidential and parliamentary elections that would mark the end of rule by the transitional Government of National Unity.
Question : 70 % in 1994... was it before, during or after the genocide ... when the majority of our population was either internally displaced or in refugee camps abroad ?
Un des hôtels de feue Sabena
A vendre?
7 novembre 2001
La Sabena n'est plus
Le situation de son actif et surtout celle de son lourd passif n'a pas encore été définitivement réglée un an après... notamment à Kigali où le "1000 Collines" devrait être mise en vente un jour.
2002 Recurrent Budget: 40% was to be covered by foreign aid
Abadage batsindiye Electrogaz ?
Amakuru aturuka i Kigali yatumenyesheje ko idosiye y'Abadage ba Lahmeyer yaba yaragize 75% naho iya Eskom yo muri Afurika y'Epfo 73%. Ibyo bigo byombi byapiganiraga kuyobora Ikigo cy'Igihugu gishinzwe Amazi n'Amashanyarazi, Electrogaz.